Adopting the practice of the Law of Attraction (LOA) as part of your daily life is a challenge.
In general, people are aware of the idea of LOA, and most of them have consciously put it into practice at one point in their lives.
However, the motivation to push through with it is where the challenge lies when people aren't seeing the results that they want.
Newsflash: LOA doesn't happen in just a snap of a finger.
Instead, LOA demands consistency.
You have to let the universe you really want it. And you have to let the universe know that you deserve to have it.
To be consistent, you need to commit to it every day.
So, here's a 24-hour law of attraction daily routine that you can put into action. 
Learn to create money, love, great success, and all that you desire with the science of the law of attraction<<<
In the Morning…
The most important part to fully get into the habit of LOA is how you start your day. So, for effective implementation of the 24-hour law of attraction daily routine, here are some steps that I want you to do…
Visualize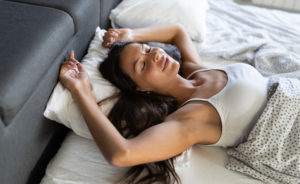 Upon waking up, instead of reaching for your mobile phone, I want you to take this moment to visualize what you want to happen to your day. Think about the things that you need to accomplish within the day and see yourself getting the results that you want.
Visualize how positively your day will unfold. This will only take you a few minutes. Doing this will not only put you in a good mood, but it's the first step for LOA to work in your life.
Get Up & Write Down Your Goals
Give yourself a minute, take a piece of paper, and write down your goals for the day. You don't need to make an endless list of goals. Just stick to the goals that are achievable for you within the day.
Do Your Affirmations
Before you head out for the day, and while you're in front of the mirror, do your affirmations. Say them out loud while you brush your hair.
Recite something positive such as, "Today, I will have an awesome day."
Talk About Your Plans
When you typically have breakfast with someone, discuss your goals. Say it out loud. On the other hand, if you don't usually have a breakfast buddy, call a friend, or even say it to your local barista while you're getting your coffee on the go!
Be Kind
I encourage you to do random acts of kindness every day. It could be as simple as opening the door for someone or giving up your seat for someone else during your commute.
Commit to doing random acts of kindness in the morning as much as you can.
Just simply thinking about being kind and doing kindness to others will open up opportunities that will allow you to exert your kindness towards other people.
Spread Positive Vibes
The morning rush can easily put us in a bad mood, but don't let it! Instead, when you get to work, spread positivity.
A simple cheerful "good morning" to your colleagues will do the trick. And before you begin the workday, why not tell your office best friend about something wonderful that happened to you in the morning? It could be as simple as getting a good night's sleep!
In the Afternoon…
Now that half of the day has passed, it's possible that you're already feeling the pressures of the day with deadlines to meet before you leave the office, but don't let it take you away from your 24-hour law of attraction daily routine!
Be Kind To Yourself
I want you to STILL be in a good mood at noon, and the most effective way to do this is to consciously be kind to yourself. How?
Have a healthy meal for lunch. Or have a conversation with someone you care about.
Take a couple of minutes to yourself. Walk out of the office, breathe in some fresh air, get a fresh cup of tea, and just enjoy it. Think about all the positive things that will happen to you during the day.
Continue to Spread the Positive Vibes
Mid-afternoon, take a moment for a break. Stretch your legs and walk to the pantry. Smile at your colleagues or give encouraging comments. Inspire others with new ideas and continue to tell people stories of happiness!
At night…
Finally, the day is over! But before you hit the sack, there are still some things that you need to do…
Reflect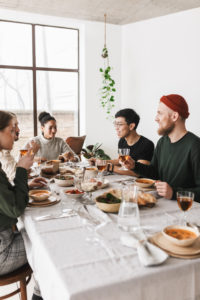 During dinner, reflect on your progress. Talk about it during dinner. It's also a great idea to share your intentions for the coming evening. Take a moment to write down everything that happened that day — for example, you can write about all the positive things that happened that day as well as the things that you were most grateful for.
Meditate
Before you hit the sack, take a couple of minutes to meditate. Allow yourself to be lulled into a meditative state while you're in a peaceful space. Just simply allow feelings of peace to flow inside of you.
So, are you ready to change your life?
This is YOUR life, are you willing to do the 24-hour law of attraction daily routine?
Feel the power of LOA, do it EVERY DAY.
Click on the link here to discover more about how "Manifestation Magic" can help you.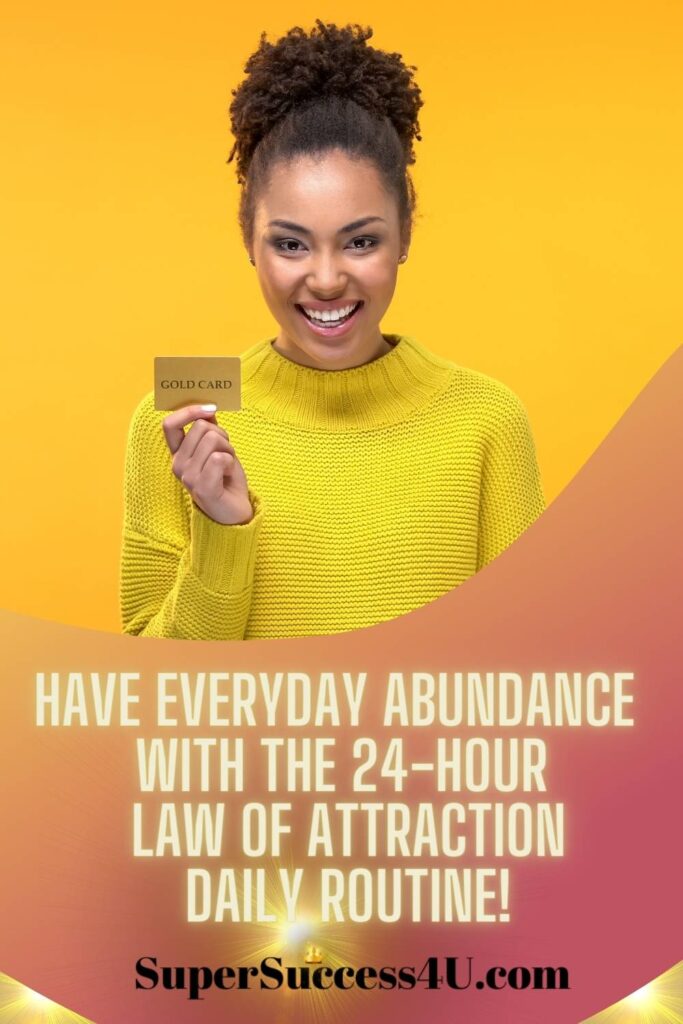 Please follow and like us: